Best Augmented Reality Apps that Will Change the Way You Use Technology
Best Augmented Reality Apps that Will Change the Way You Use Technology
Business owners are gravitating towards augmented reality (AR) to give their apps a modern twist. AR is commonly used in gaming but its appeal offers more than just entertainment purposes for business owners. The combination of the real world and digital elements in augmented reality can be used to boost audience engagement and create impactful user experiences.
With augmented reality, users can expect interactive visuals such as 3D models, animations, product demonstrations or virtual tours that they can experienced through their mobile device. Augmented reality has become a popular trend in the business world because it enhances customer loyalty, transforms communication strategies and offers an entirely new way to showcase products in a memorable yet efficient way — all while making the most of technology!
"When we get to this [AR] world, a lot of the things we think about today as physical objects, like a TV, will be $1 apps in an AR app store"

Mark Zuckerberg
By utilizing augmented reality in an app, businesses can make it easier for customers to interact with what they offer. For example, augmented reality integration allows customers to virtually experience restaurants or stores so that they can decide whether or not they want to check out the actual store or restaurant. This is particularly beneficial for businesses during times when physical shops are closed due to restrictions.
Furthermore, augmented reality offers an entirely new level of entertainment for customers, allowing them at times to almost view a place before actually visiting it–making the decision on where to go much simpler than ever before! With augmented reality, businesses can attract more people and grow their popularity faster than ever before possible.
So, you wonder, what businesses actually use augmented reality and how does it work? Well, we've got plenty of examples for you in this blog! Here are some popular companies that use augmented reality on the daily:
1. IKEA Place
IKEA Place is an app that allows you to drag-and-drop your favorite home decor and insert it into your very own home. Here, you can sift through any of their products and see them as if they're already in front of you. Not only can you see the products in action, but this app scans the entire area that you want your product to fit into, making it that much more realistic.
No more shopping blindly and hoping for the best; now you can experience new looks without leaving your house!
2. Snapchat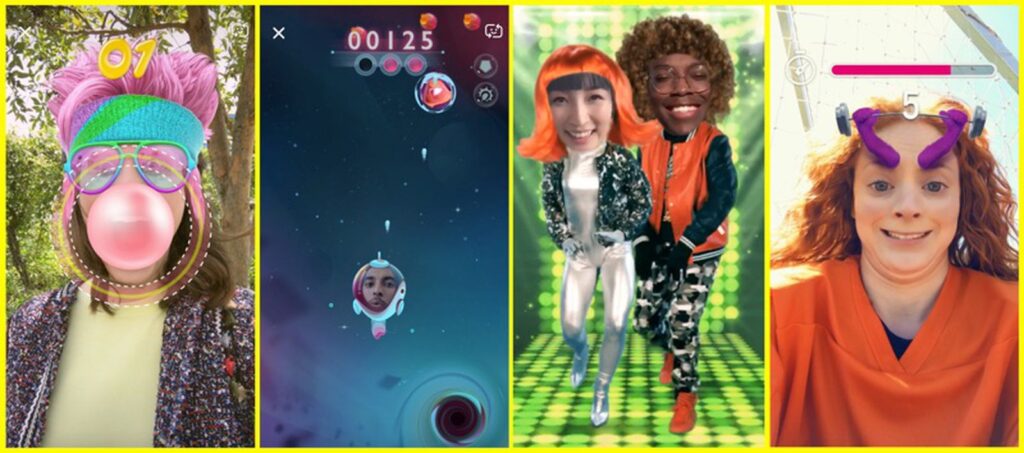 Snapchat is one of the most popular, trending social platforms of today. You can communicate with friends, create your own stories and decide who can see them, and even watch the most trending videos and latest media news in your feed.
Snapchat's augmented reality features have revolutionized the way people communicate and engage with each other. Augmented reality (AR) overlays graphics, animation, and sound into a user's real-life environment via the Snapchat app. From turning yourself into an animated character to playing augmented reality games directly in front of you, Snapchat users love being able to interact with augmented reality.
Specific augmented reality features that people love using include: Lenses which turn people into animals or cartoon characters, Snappables which are interactive augmented reality mini-games designed to be played solo or with friends, World Lenses which allow you to take a selfie surrounded by 3D AR objects that can be placed anywhere in your surrounding area, and a world map filled with avatars of all of your friends in their specified locations.
With all of these awesome augmented reality features available on the Snapchat platform, users have a plethora of possibilities at their fingertips! So many AR features and so little time to try them ALL!!
3. Shopify AR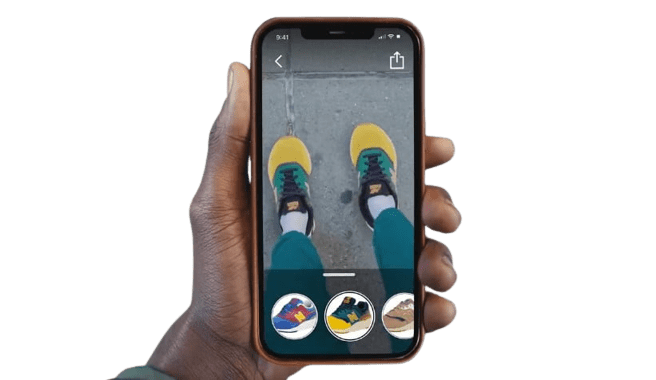 Shopify AR is an online store that provides an immersive shopping experience. Sellers can use Shopify AR's software to upload 3D videos and images of the products they want to sell so that their customers can get a better understanding of what the products really look like.
Buyers have the ability to put these products in action. With products like jewelry and clothing, buyers can try on their favorite pieces and see themselves wearing them before buying! Buyers can even take pictures of their surroundings with their favorite products in them to see what they would look like up close. You want a new bike? Take out your camera and point it in front of you and there it is! Now you just need to purchase it!
4. Toyota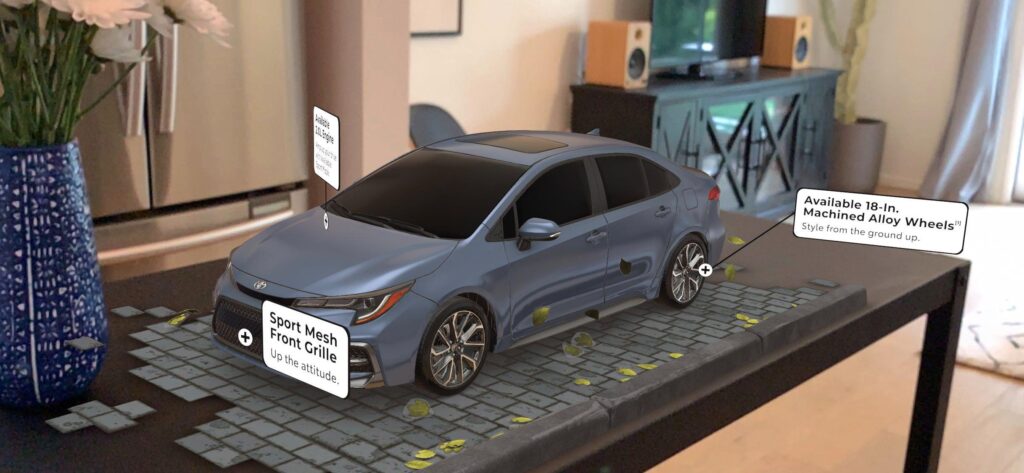 Yes, that's right. Toyota is using augmented reality to show off their new vehicles. Now, customers can use their AR platform to see the cars that they might want to purchase without having to go to the dealership. The best part is that you don't even need an app to use it, just click on their ad or link and see your dream car show up right in front of your eyes. It even includes little descriptions around the vehicle that recognizes your favorite details.
Then you can decide if you want to make it yours!
5. UMake
UMake is an interior design app where you can imagine and create an entire room exactly how you'd want it to look. Instead of blindly going to the store and picking out decorations and furniture you think would look good in your house, you can remake your entire room and see for yourself.
Form a 3D scene and place 3D objects all throughout it. You can even see your designed space from all different angles just to make sure you really like it. Play with different textures, objects, designs, and templates down to the tiniest detail, and to make it even more crazy, you can draw your own sketches and incorporate them into your design – that is, if you can't find it in the options the app gives you already.
Clearly, augmented reality is paving itself a bright path for the future. Countless businesses use AR to improve their company and their user experience and you can too! No matter the app or business, you can definitely implement AR and guarantee the best experience for your customers. Not only will they love your business and your products, but they will also be much more likely to recommend you to their friends and family. A fun experience is a productive one that will keep them coming back fore more!
-MoMo